Lead Nurturing Grows Sales by 10% or More!
We've got you covered
SalesNexus develops messaging and designs emails to keep you in front of leads and customers.

Staying in touch = Best Results
Staying in touch with leads and customers always pays off.  Automate the process to maximize results!
You get:
SalesNexus automates campaigns so the right messages reach the right leads and customers every time.


SalesNexus writes and designs 3 to 4 email campaigns for each package
Strategy Consultation to identify goals, content and processes


Free use of SalesScripter.com to maximize effectiveness


30 Day Check Up Call to make required adjustments.

All Lead Nurture Packages Include:
Free SalesScripter subscription
Strategy Consultation
Write and Design email campaigns
Campaign Automation
Adjustments to Campaign after 30 Days
Complete Lead Nurture Bundle
$4,999 per year
Package Includes:
Includes all of the above: Web Lead, New Lead, Client and Past Client packages.
Buy Now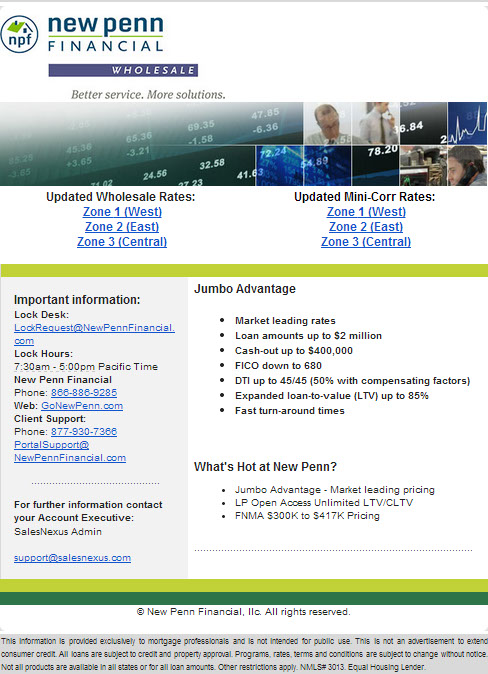 New Penn Financial
Strategy:
Build repeat business with mortgage brokers by making it easy for them to stay up to date on the most important piece of information in their business – today's rates.
Challenge:
Updating web pages with latest rates didn't get "viewed" regularly by target audience.  Emailing out rate sheet as attachment got caught in Spam Filters too often.  Embedding rate sheet "table" daily in an email template was too time consuming.
Solution:
Build table in the SalesNexus CRM for daily, fast input of latest rates.  Create email template that "mail merges" in the latest rates automatically so no manual manipulation of the template is required.
ROI:
Open and click rates on emails indicate 50% increase in "views" of the rate information.  Repeat deals per broker increased by 27%.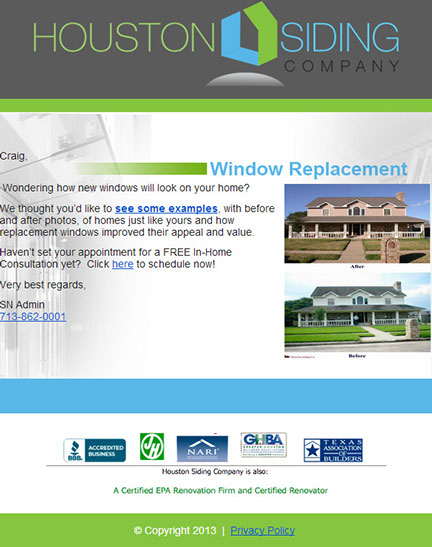 Houston Siding
Strategy:
Grow existing Window Replacement business through the use of Pay per Click advertising.  Increase appointments for rep, quotes per rep and sales.
Challenge:
Many customers not willing to set appointment immediately and there was little to no sales follow up, degrading overall ROI of advertising investment.
Solution:
Develop 4 email campaign to engage with customer interests and needs.
Each new Pay per Click Conversion automatically added to automatic drip email campaign which engages them with interesting content and reminds them to set an appointment.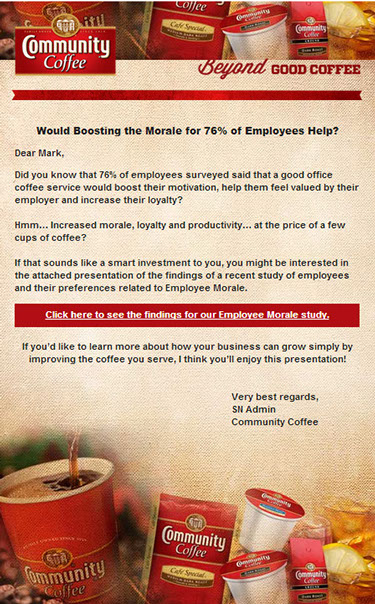 Community Coffee
Strategy:
Expanding their brand into 20 new markets in 24 months.  Hiring and training new sales reps in each new marketing.  Need to quickly fill the sales funnel in each new marketing timed with the arrival of a trained rep.
Solution:
Develop 5 email campaign to engage with customer interests and needs.
Source emails for contacts with selected titles in specified industries in the targeted markets (approx. 2,000 to 3,000 per market).
Sales rep calls on 25 to 50 contacts that "clicked" on the emails.  Warm conversation.  Quick "qualification" and appointment setting.
ROI:
Previous expectation of new rep in a new market had been 100 calls per week, setting 3 or 4 appointments in the first month, while learning and first actual sale in 90 days.
First campaign with the email marketing strategy resulted in 3 or 4 appointments set in the first week and first sale in 20 days.