Do you have a lead nurturing plan? Are you leaving that up to your salespeople to manage?
Every sales manager knows that sales people very commonly have a tough time managing to follow up consistently with active customers and leads. If you're expecting them to also keep in touch with cold leads, you're asking them to invest a lot of time in doing what they perceive as a "low return" job in a completely manual and inefficient way.
Marketing Sherpa says that companies that have Lead Nurturing programs in place achieve a 45% higher ROI on their marketing and advertising investments. That's in addition to the fact that salespeople are relieved of the duty and can focus more energy on active prospects.
There are two main hurdles most businesses face when considering lead nurturing:
Choosing and Implementing the Technology
Creating the Content
Lead Nurturing Technology
If you've already got a CRM solution in place, then there is probably a lead nurturing add-on or partner that will integrate with the CRM. That's probably a good place to start. Remember to keep it simple. The biggest mistake companies make when implementing sales and marketing automation technology is getting excited about cool capabilities without having a clear idea of how they'll get used or add business value.
You can end up choosing technology that's too complex and too expensive and then never really get the basic job done, nurturing your leads.
Creating Lead Nurturing Content
Again, the Keep It Simple principle applies. If you talk with a marketing firm, they'll quickly have you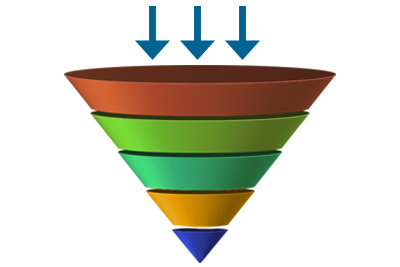 believing that you need 3 different case studies based on exhaustive on-site interviews with customers, on-site photo shoots, video and a glossy brochure. If you've got the budget for that, it might make sense, but don't assume it will be the rocket fuel for your lead nurturing campaign.
The fact is that until you send out your first email or first campaign, you have no way of knowing what is going to work. Little things like the subject line of your email can undermine an entire campaign.
Start simple, test and measure.
A recent article by Lead Nurturing guru Brian Carroll provides a wealth of guidance and great ideas for the 3 main types of lead nurturing.
Engage with more new prospects using Lead Nurturing
For leads at the top of the funnel, create campaigns that will attract new leads to your brand and engage the leads that are interacting with your website, events, etc. for the first time. Make them want to talk to a salesperson. One of Carroll's suggestions is to repurpose existing content, both your own and content created by others.
Enable Sales by Nurturing Leads
For leads that have moved to the middle of the funnel, create campaigns that help salespeople do their job. Help them get connected with customers with automated emails that request an appointment and let the customer schedule a time themselves using tools like Calendly, etc. Create content that helps the salesperson educate the prospect and set your brand apart.
Lead Nurturing Helps Close More Opportunities
This is where many salespeople are adamant that they want to be in total control of what the customer is seeing. Salespeople don't have the time to stay in touch with the 5 or 10 people that are involved in a decision for the customer. Make it easy for the salesperson to add all the influencers to campaigns while they focus their love on the primary decision maker.