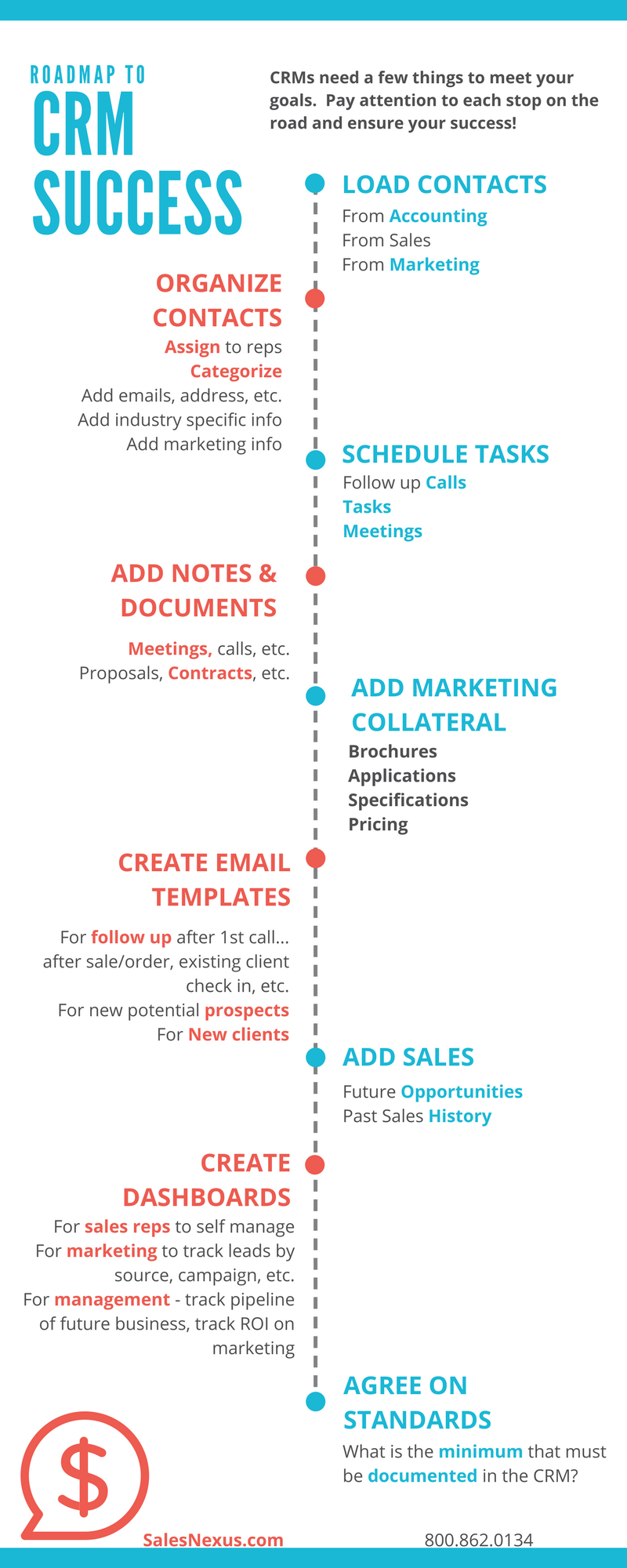 Are you embarking on the road to CRM success?
If you're like most companies implementing CRM software for the first time, you have more questions than answers when it comes to exactly how to set things up.
It's challenging to know how to properly configure your CRM software until you've used it a bit to understand the capabilities to some extent.
If you're company has used other CRM software previously, you may have a clear understanding of what matters most for your business. Or you may have someone on the team that has prior CRM experience in another company. If so, your path to CRM success may start with strategic planning of objectives for the CRM software and then move on to implementation. Check out our Ideal CRM Implentation Plan here.
If it's your first time to setup and implement a CRM system, you may feel paralized by your lack of experience. In that case, it can be best to simply begin the process of loading all essential information into your new CRM system. In the end, it will be difficult to judge the value of managing specific businesses processes with CRM by playing with an empty database.
Benefits of CRM Software
Access to customer information instantaneously.
Fast, efficient execution of marketing campaigns.
Visibility into lead flow, deal flow and status.
Improved customer service.
More effective sales management.
Increased security of information.
Road Map to CRM Success
Load contacts
Organize Contacts

Assign to reps
Categorize
Add emails, address, etc.
Add industry specific info
Add marketing info

Schedule and Complete Tasks

Follow Up Calls
Existing Client Calls
New Lead Prospecting Calls

Add Notes, Documents, etc.

Meetings, calls, etc.
Proposals, contracts, specs, etc.

Add Marketing collateral

Brochures
Specifications
Price Lists

Create Email Templates

For follow up after 1st call, after sale/order, existing client check in, etc.
For new potential prospects
For New clients

Add sales opportunities and sales history

Future sales opportunities
Past sales history

Create dashboards

For sales reps to self manage
For marketing to track leads by source, campaign, etc.
For management – track pipeline of future business, track ROI on marketing
With this information loaded into your CRM software, opportunities to leverage this vast trove of information will literally appear organically. Of course, you can also try applying the CRM software to certain business processes and begin to learn where the path of least resistance toward real business value lies.