SalesNexus today announced the release of an update to it's CRM and Marketing Automation suite, scheduled to be available on December 11, 2020.
Here's what's new…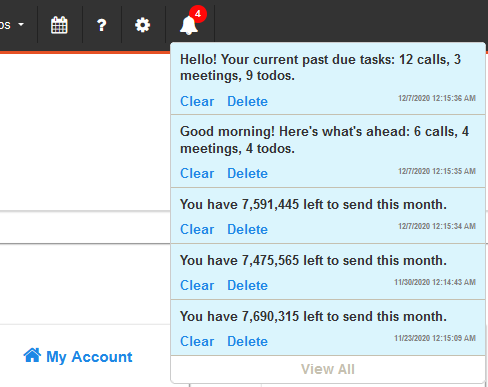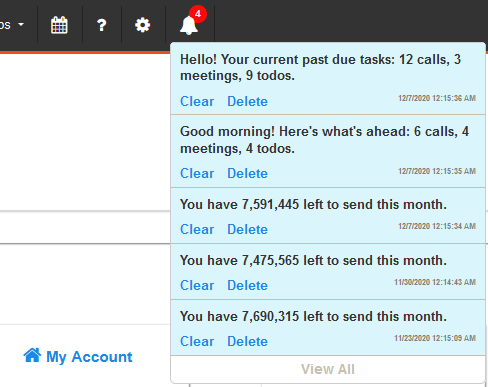 Enhancements & Improvements
Notifications
Now SalesNexus alerts you of Important Changes in your account and keeps you focused on what matters with Notifications.
Notifications of Tasks Today, Past Due Tasks, Reaching Email Sending Limit, Unused Email Send Credits and more.
See Notifications in the top SalesNexus navigation.
New Notifications Admin page in Settings > My Account > Notifications.
Field Permissions
Now each individual field in the customer record can locked for editing only by admin users. Standard users can be allowed to view the fields but, not edit them, as configured by admin users.
Groups Improvements
Ability to import lists of groups from CSV/Excel
Ability to import contacts from CSV and auto-assign to Groups
Fixes to issues with auto-push of fields from Groups to Contacts
Fixes to Groups Layouts and Tabs
Contact Sync / Email Capture / Email Archival
New Admin Control Panel for Contact Sync, Email Capture/Archival
Improved archival of attachments captured from Outlook and Gmail
Fixes to issues with duplication of Email Capture notes
Emails & Campaigns
Create sales quote templates with the new email editor!
Undo button in email editor!
Changes to click tracking to ignore automated clicks (spam filters).
Fix click notes when no open occurs.
Fix templates names in Subject & Template Performance report.
Other Noteworthy Enhancements
Improve speed of importing contacts.
Easier updating of Record Manager when adding new contacts.
Bug Fixes
Fixed issue with right side layouts not appearing.
Fixed issues with time zones when sending emails and various other pages.
Various security and privacy fixes.
---