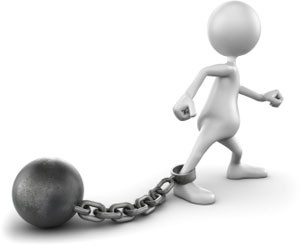 What goes in your CRM?  Contacts!  Customer's names.
Did you know that CRMs like Salesforce.com, Zoho, Hubspot and Infusionsoft all limit the number of contacts you can store in their systems?
These limitations may not be a problem if you're a local business or you're focused on a very specific niche.  However, it's easy to underestimate the number of contacts you'll ultimately have.
In many B2B businesses, there may be several contacts within each company you deal with.  If you market through trade shows, you may have lists of hundreds of registrants for each trade show.  You might be collecting newsletter sign ups, leads or orders on your website to the tune of hundreds a week.
Over time it all adds up and pretty soon you've got thousands of contacts in your system.
When you hit your CRM system's limit, what happens?
With most, there are simple upgrade options you can choose.  However, the costs of these upgrades can be significant.  Here's a breakdown of system limits and potential costs…
Salesforce.com
Salesforce doesn't specifically limit the number of contacts, only the amount of storage your contacts and other data can take up on their servers.  A good rule of thumb is 100kb per contact when you include a few documents and files.  Your account is limited to 1GB of data storage per user so, estimate that each user can have 10,000 contacts.  If you need to increase the limit, you can purchase additional storage at $1,500 for 500MB of additional storage per year.
SugarCRM
SugarCRM's Enterprise edition starts with 60GB of storage for 10 users, or 6GB per user.  That's total data storage including emails, documents, etc. so, that could limit you to 5,000 to 10,000 contacts per user if you have much in the way of files or documents.  Additional storage is $200 per year per 1GB.
Zoho



Zoho Standard edition is limited to 100,000 records.  You get 1GB of storage per user and can purchase additional storage at $4/month for 1GB of additional storage.
Hubspot
Hubspot Professional edition is limited to 1,000 contacts and there's a charge of $50/month for each additional 1,000 contacts you have.
Infusionsoft


Infusionsoft Complete edition is limited to 10,000 contacts.  This edition includes 5 users so, that's 2,000 contacts per user.  They don't publish information on their site about the cost to add more contacts.  That's probably a pretty good clue that you won't like the answer.
The systems above all have similar limitations on sending emails to your contacts.  Click here to read about email sending limitations.
By the way, SalesNexus has no limit on the number of contacts you can load into your CRM.