Automated Campaigns
Timing is everything. With SalesNexus you can create automated campaigns to move each lead through the sales crm funnel in a timely manner.
Increase your reach with SalesNexus Email Marketing
Never feel limited again when setting up a new campaign. With SalesNexus each user can send 25,000 emails per month!
Fill your online crm funnel with new opportunities and stay in touch with existing customers.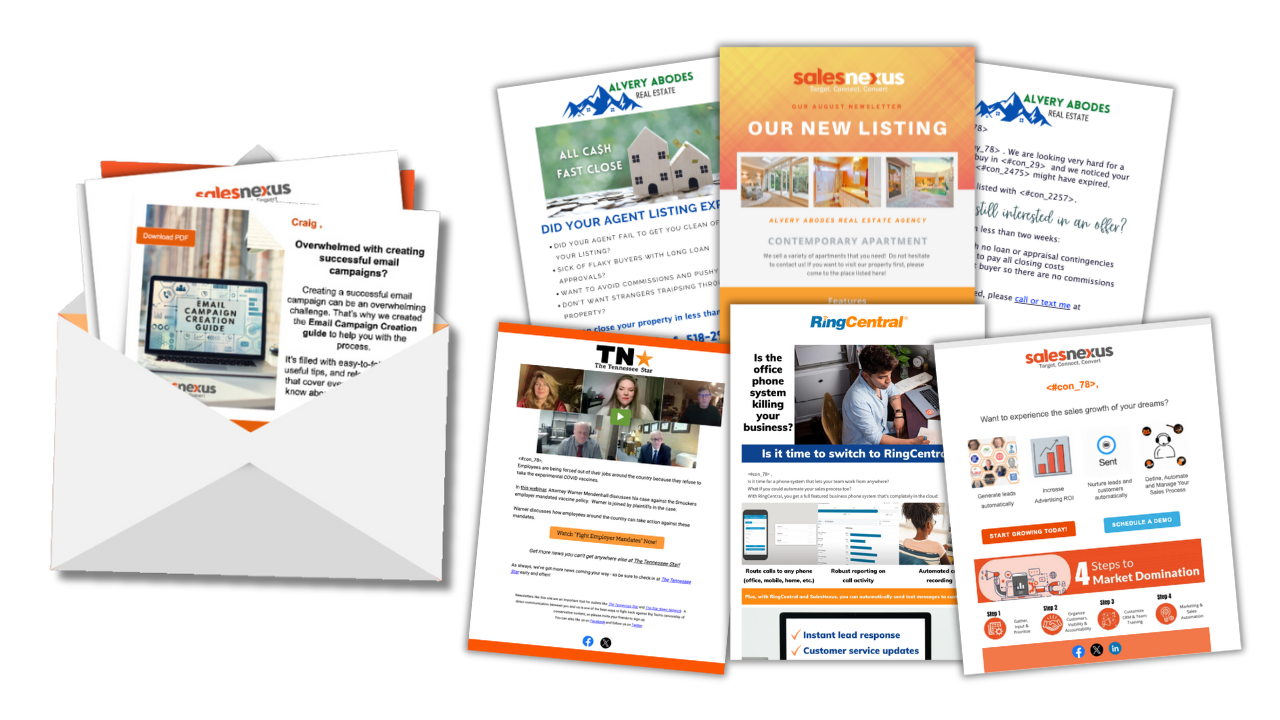 HTML
Code your emails to personalize them with no limits, Or use a template and drop in your text in images
Picture Upload
Make sure your images are seen. Upload them straight to the server and embed them in your emails
Template saves
Save your templates and use them on multiple campaigns.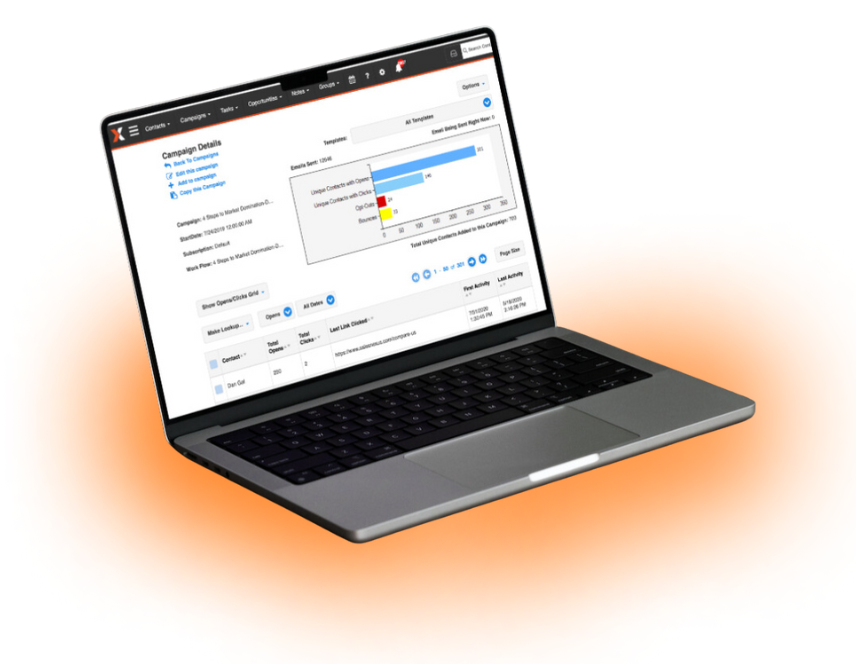 Track campaigns to improve results and target leads. Make a sales calling list from a list of "clickers" on your last email blast. See who's opting out or bouncing. Start a new campaign for those that opened emails in a previous campaigns. With SalesNexus, the possibilities are endless.
Email Marketing Frequently Asked Questions
How does marketing automation benefit sales teams?
If a company sends out two batches of emails per month to those who haven't responded (the cold leads), an email lead nurturing program can deliver impact even with limited response. As an example, if only a 2% click rate came back on those two batches of sent emails those numbers will add up. To keep it manageable, assume there were 100 people on the "cold" list. That will equate to a mere 4 new viable additions to your lead pool that month but over the course of the year…
How many marketers, if they were told that they could revive 50 dead leads a year with minimal effort, would reject that offer? If you have a team of 10 superstar marketers, what could they do with 500 quality leads? Looks like you might need a bigger office, right?
That is the secret and power of email lead nurturing done right.
What kind of messages should sales teams use in marketing automation?
A Voicemail via Video – People avoid their voicemail for a long time if they aren't sure who is calling, but video advertising is proven to be extremely effective at grabbing attention. Why not send a video of you "leaving a voicemail" via email? The lead will get to see who you are, recognize that you are a personable and charismatic individual and that you are truly committed to winning their business. Requesting a call back – and getting one – is easy with this format, and a key approach within your lead management strategy.
Emailing for Appointment Availability – The courtesy of asking when might be a good time to call via email gets two things accomplished at once: it ensures that you won't have an answering machine for the next call, and it also makes you appear committed, attentive, and thoughtful. This simple lead management tip also makes the appointment part of their calendar, rather than any kind of imposition. This strategy generates buy-in from your clients even if they aren't yet ready to literally buy.
Direct Them to Helpful Links – One way to show how much attention you paid to their needs and desires as a client is to gather some helpful internet links to information that can help them make a decision. Lead nurturing is the key component of lead management, and giving the client more information can help that process along, according to Technopedia. Some of them can point to the value of your own product, but you can usually find some that are general and help them simply make a smarter decision overall.