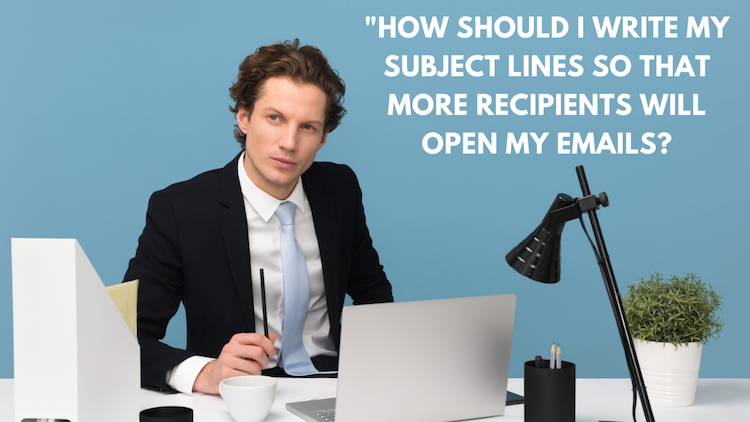 How to Write Email Subject Lines That Get Opened
One of the most common email marketing questions is, "How should I write my email subject lines so that more recipients will open my emails?"
It's widely known that the email subject line is the gateway to the reader. It's not uncommon for people to peruse their inbox looking at subject line and sender alone and delete irrelevant emails without even opening them. So how do you keep your email from falling victim to the trash folder? This post outlines a few key ways to make sure you are writing subject lines that will get your emails opened!
Use these 7 simple tips to write your email subject lines and get through to your customers
1. Email Subject Line Length: Less is More
The email marketing rule of thumb for email subject lines is to keep your subject line to less than 50 characters.
A typical inbox reveals about 60 characters of an email's subject line. But a mobile phone shows just 25 to 30 characters. We read at least half of emails on mobile phones, so make your point in six to eight words. Therefore, put the most important information at the beginning to avoid loss of compelling details.
Keeping it short is the sweet spot!
2. Localize to Personalize
Studies show personalized email subject lines increase open rates.
However, the use of the recipient's name has become such common practice many users overlook the message as spam. Instead, intrigue your target audience with location-specific offers right in the subject line.
People are curious about things going on near them in their city or state, which makes it feel more personal. This can be seen in the growth of localized deal sites like Groupon or Daily Deals that provide deals to your inbox based on where you live.
3. Fresh is Better
Newsletters tend to spike interest at first, but over time, suffer a reduction in open rates. When an email subject line reads the exact same way each time, your email gets stale.
Keep the content fresh.
Clearly indicate in the subject line what is of interest inside each new edition. Establish continuity in your newsletter with recognizable language.
4. Give a Deadline
Indicate if you need a response right in the email subject line. Your reader wants to know whether they really need to read your email now and if they have to respond. If you have a lot of information to convey in the email itself, include a deadline right in the subject line. As a result, you can increase the odds your reader responds.
5. Words to Avoid
Emails about emotional investments or timely and valuable information are valuable, but promotional emails are easy to ignore. Keep your message simple and avoid flashy promotional phrases, all caps, or exclamation marks in subject lines. Most email marketers know to avoid familiar words such as "free" and "sale" since they tend to trigger spam filters. Other words proven to reduce open rates are "Help," "Percent off," and "Reminder".
6. Include Keywords
Archived emails can be a goldmine for information recall. Most professionals have filters and folders set up to manage their email. Also, they may not even focus on your message when they first receive the email. Include keywords in the email subject lines related to the topic of the email for easy retrieval later.
7. Pay Attention to the Preview
The email preview follows the email subject lines and is a valuable piece of property. Many marketers ignore the space or let the area clog up with junk text. Make the most of the preview field. Move the "view in browser" links and other mumbo-jumbo to the bottom of the email.
Your email's subject line is your first (and maybe your last) impression on your target consumer. Therefore, your email subject lines directly determine whether your intended audience receives your message. Even a great newsletter is worthless when lost in a sea of unopened emails. Make your email subject lines sell.
Common Email Marketing Subject Line Words to Avoid
The most overused and least compelling words in email marketing are:
help, free, reminder, donation and special.
These words will get your email caught in the clutter vortex and deleted. Moreover, steer clear of exclamation points in email subject lines.
Always put yourself in your reader's shoes. What would you dismiss and what would you open? The email subject lines that are most likely to be opened are short, descriptive and give the reader reason to open and read your message!
Email subject lines that are too salesy or cheesy tend to look like spam and turn people off immediately. Ultimately, the best email marketing subject lines tell, not sell!
Now that you know how to write good email subject lines, you may want to learn how to Easily Create Professional Emails. Mastering these email marketing skills will help get your emails opened and read!